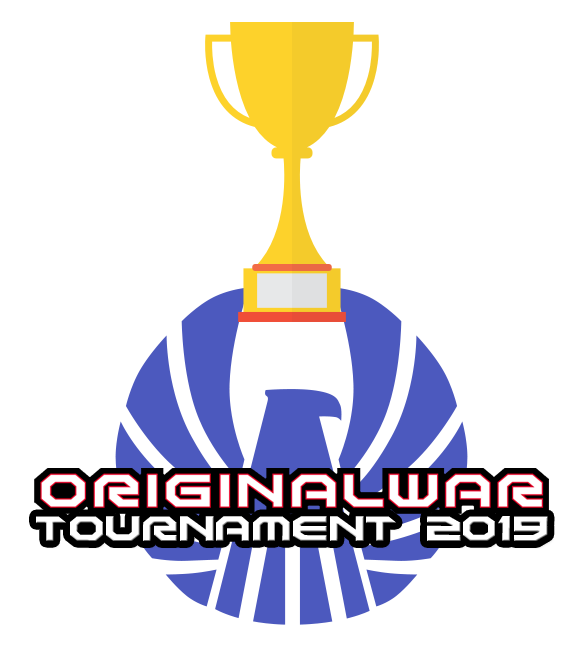 EN:
By the decision of the competitors there was a small change in the prizes! Due to a small clash between the finalists over the prizes, we decided to propose a peaceful solution in the form of cash prizes for the first and second place in charity. According to the decision and consent of both finalists, the cash prizes for the first and second place, i.e. exactly 800 PLN, will be transferred to a charity chosen by the participants of the tournament! We would like to thank the players for this gesture. The choice of organization will be based on voting on original-war.net forum.
Please that only the participants of the tournament write in the topic matter and write in the posts whether they are in favour of "1", "2", "3", "4" or "5", without unnecessary discussions and arguments.

The survey will last from 26.02.2019 to 03.03.2019!

List of charitable foundations:
1. http://fundacja-ast.pl/
2. https://fundacjatara.info/en/
3. https://www.wosp.org.pl/
4. http://fundemerwoj.pl/
5. https://www.raknroll.pl/
Players list:
Antonio - AntonioPL
Bren - Bren
Darth Saviola - Darth Saviola
Thorgall - Thorgall
DJDAREK! - DJDAREK1
Belkov - Belkov
Terminat - Terminat
Szpiegu - Szpiegu
Lazarus - Lazarus
Serpent - Serpent
Gelwe - Gelwe
Sebastian - Sebastian
Tenshinhan - TENSHINHAN
Rutek - Rutek
R10_John - R10_John
BezNicku - Janusz Gry
Marc Le Fleur - Marc Le Fleur
parówczak - parówczak
MarianPL - MarianPL
francesco - francesco
Mart - Mart
Laminos - Laminos
Vitus - Vitus
Creative - creative
arturc200000 - arturc200
Anarchy - Anarchy
------------------------------------
PL:
Decyzją zawodników nastąpiła mała zmiana w nagrodach! Z powodu małego spięcia między finalistami odnośnie nagród postanowiliśmy zaproponować pokojowe rozwiązanie w postaci przekazania nagród pieniężnych za pierwsze i drugie miejsce na cele charytatywne. Zgodnie z decyzją i zgodą obojga finalistów, nagrody pieniężne za pierwsze i drugie miejsce, czyli dokładnie 800zł, zostaną przekazane na wybraną przez uczestników turnieju organizację charytatywną! Dziękujemy zawodnikom za ten gest. Wybór organizacji nastąpi na podstawie głosowania na forum original-war.net.
Prosimy, by jedynie uczestnicy turnieju pisali w temacie, a w swoich postach umieszczali jedynie informację, czy są za "1", "2", "3", "4" czy "5", bez zbędnych dyskusji i argumentacji.

Ankieta trwała będzie od 26.02.2019 do 03.03.2019!

Lista fundacji charytatywnych:
1. http://fundacja-ast.pl/
2. https://fundacjatara.info/en/
3. https://www.wosp.org.pl/
4. http://fundemerwoj.pl/
5. https://www.raknroll.pl/
Lista zawodników:
Antonio - AntonioPL
Bren - Bren
Darth Saviola - Darth Saviola
Thorgall - Thorgall
DJDAREK! - DJDAREK1
Belkov - Belkov
Terminat - Terminat
Szpiegu - Szpiegu
Lazarus - Lazarus
Serpent - Serpent
Gelwe - Gelwe
Sebastian - Sebastian
Tenshinhan - TENSHINHAN
Rutek - Rutek
R10_John - R10_John
BezNicku - Janusz Gry
Marc Le Fleur - Marc Le Fleur
parówczak - parówczak
MarianPL - MarianPL
francesco - francesco
Mart - Mart
Laminos - Laminos
Vitus - Vitus
Creative - creative
arturc200000 - arturc200
Anarchy - Anarchy