Przygotowałem dzisiaj tekstury do misji 5 zgodne z projektem Altaru (bo gdy powstawała ta mapa, tych projektów nie było, więc misja nie przypomina za bardzo tego, co zaplanował Altar). Na tę chwilę jest to wstępna wersja, tekstury, jest w trakcie przenoszenia na mapę i portowania misji AR05 na nową mapę, więc zobaczymy jak to wyjdzie w ostateczności tak, by wszystko było zgodne zarówno z zapiskami Altaru (wg któych w tej misji pojawia się Farmer), jak i z aktualną budową tej misji. Podobnie jak w przypadku misji 3, która została już przeportowana na nową mapę.
Aktualnie tekstura prezentuje się tak:
Projekt Altaru wygladał tak: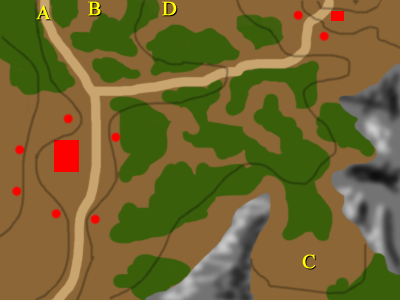 Starałem się, by oddać go jak najwierniej, ale by też miało to jakiś sens rozmiarowy.
Tak to wyglądało w starej wersji:
Sama tekstura załączona w załączniku. Za jakiś czas pewnie pojawi się propozycja samej misji.